We would love to hear from YOU!
Those of you who listen to "THIS SUNDAY MORNING" on WDAD (1450-AM)
And on our "24/7" presentations on WMUG (105.1 FM).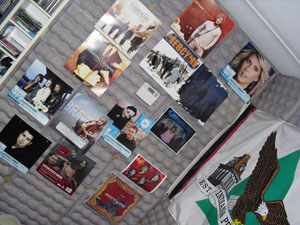 Thank You for Your Gifts
THE CHRISTIAN WITNESS
Post Office Box 223
Indiana, PA 15701
Funraiser for A Service Dog for Baylee Cressley

New photos New Location WMUG

F.E. at age 96 ! She is a beautiful lady—and it was she who gifted WMUG-FM with the Ty-Line system—making it possible to do "off-site broadcasting"

(as with the Thanksgiving Concert of Praise.)

WE believe that ALL THINGS BELONG TO GOD...and that humankind in entrusted as stewards to work in the "vineyard" of humanity to share the Good News of Jesus Christ in a redemptive and relational way...using all methods of communications, including the media of radio.

Sponsored Programming

Sponsored by Christian Witness Program

WMUG-FM is a low-power FM station that is limited in its scope of dedicated listening space. The signal will cover Indiana Borough, the Campus of IUP, White Township and the "fringes" beyond. Of the 94,000 people in Indiana County, approximately 40,000 of these reside within our scope of media ministry. Less than 50% of these people are church members, and of the church members, the average attendee number less than 50%. Yet all of these people are potential listeners to a good quality FM radio production that features FAMILY FRIENDLY BROADCASTING under the "Banner" of St. Matthew 5:16. And, the constant reminder will be that WMUG is WORLDWIDE MEDIA UNDER GOD radio!